A high energy concert phenomenon, Tribute Royalty is a tribute show tailored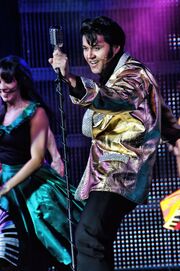 to only have the best healiners in Las Vegas history. Taking the best and most sought after tribute acts, Tribute features the most legendary musical icons to date: Elvis, Michael Jackson, and Lady Gaga; immortalized through the art of tribute.
One of the few afternoon shows available on the Strip, this show is family friendly, with songs and hits that can be enjoyed across the generations.
This show is part of the David Saxe Productions show line up.
Information
Edit
Plays at 4:00pm at the V Theater inside the Miracle Mile Shops. Dark Sundays
All ages welcome.
Ad blocker interference detected!
Wikia is a free-to-use site that makes money from advertising. We have a modified experience for viewers using ad blockers

Wikia is not accessible if you've made further modifications. Remove the custom ad blocker rule(s) and the page will load as expected.