Voted "Top 10 Absolutely Have to See" shows in Las Vegas, and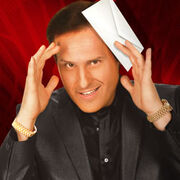 "Best Bargain Show in Las Vegas," Gerry McCambridge is the longest running mentalist show in all of Las Vegas. Gerry McCambridge is from Long Island, New York, and has had shows all over the world, even having his own show "The Mentalist" on prime-time network TV. He's been a professional mentalist for over 20 years, and currently resides in Las Vegas, with a show at the
V Theater
.
Using his skills of memory techniques, body language, hypnosis, linguistics, statistics, non-verbal communication, magic, theater and stand up comedy, McCambridge puts together a one-of-a-kind show, The Mentalist, found only in Las Vegas.
This show is part of the David Saxe Productions show line up.
Information
Edit
Nightly at 7:30pm at the V2 Theater inside the Miracle Mile Shops . Dark Wednesdays.
Recommended 13 yrs+ for language and content
Ad blocker interference detected!
Wikia is a free-to-use site that makes money from advertising. We have a modified experience for viewers using ad blockers

Wikia is not accessible if you've made further modifications. Remove the custom ad blocker rule(s) and the page will load as expected.