The Landmark Tower was a hotel/casinolocated in Paradise, Nevada. The Landmark opened on July 1, 1969 and closed on August 8, 1990.
The Landmark played host to famous celebrities such as Danny Thomas, Elvis Presley, Frank Sinatra and Freddy Fender's first appearance.
With just 525 rooms, the Landmark was small in comparison to the newer Las Vegas megaresorts.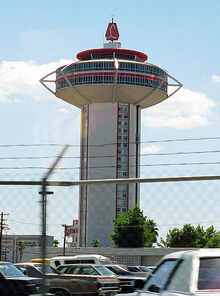 Ad blocker interference detected!
Wikia is a free-to-use site that makes money from advertising. We have a modified experience for viewers using ad blockers

Wikia is not accessible if you've made further modifications. Remove the custom ad blocker rule(s) and the page will load as expected.