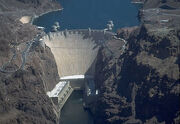 Hoover Dam was once known as Boulder Dam. It was built on the border between Arizona, and Nevada. The dam is located approx 30 miles Southeast of Las Vegas. It was named after the 31st president, Herbert Hoover. The dam started construction in 1931 and opened 5 years later in 1936.
Since the aftermath of September 11th, the road crossing over the dam has been closed for protection against terrorism. Additionally, a Hoover Dam Bypass Bridge has started being built 2003 and is expected to be completed and opened for traffic in November of 2010.
Ad blocker interference detected!
Wikia is a free-to-use site that makes money from advertising. We have a modified experience for viewers using ad blockers

Wikia is not accessible if you've made further modifications. Remove the custom ad blocker rule(s) and the page will load as expected.