Gregory Popovich is a man of many talents, including whisperer of animals.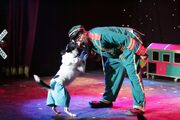 Returning from his country-wide tour, Mr. Popovich is back at the V Theater at Planet Hollywood Hotel & Casino playing daily except for Sundays. 
Winner ofmany international circus competitions, Popovich's unique show is truly one-of-a-kind. He goes to shelters and adopts various house pets, from dogs and cats to even geese, Popovich not only gives these lost pets a home, but a life of stardom. With over 20 different animals that perform with him in his show, these furry friends will have you and your family laughing and cheering from start to finish.
This show is part of the David Saxe Productions line up.
Daily at 2:30pm at the V Theater (dark Sundays), inside Miracle Mile Shops
Ad blocker interference detected!
Wikia is a free-to-use site that makes money from advertising. We have a modified experience for viewers using ad blockers

Wikia is not accessible if you've made further modifications. Remove the custom ad blocker rule(s) and the page will load as expected.