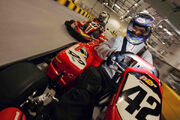 Places to go, things to see:
Outdoor Attractions - Las Vegas
Edit
Indoor Attractions
Edit
Using state-of-the-art technology, world-class performers and top designers from around the world, the Rio's "Masquerade Show in the Sky" invites guests to take part in a celebration of the spirit of carnivals from around the world.
Bullet holes in the walls tell a story of earlier days at the Pioneer, an old-time saloon in Goodsprings. Built in 1913, the Pioneer is known for having wet many a thirsty miner's whistle.
Part of the new generation of "thrill rides," the Sling Shot shoots passengers up a 100-foot tower at 4 Gs of force, 1 G more than a rocket launch.
The Grand Canal Shoppes at the Venetian adds a little 'Streetmosphere' to the shopping experience, providing fun and entertainment for all that visit.
The Bellagio teaches guests how to cook like a world-class chef at the Tuscany Kitchen, the first exhibition kitchen of its kind in Vegas.
Out of town
Edit
Motion Rides
Edit
In Search of the Obelisk In one of Vegas' better motion simulators, riders follow an expedition crew in its race against the evil Dr. Osiris for the coveted crystal obelisk.
Merlin's Magic Motion Machines We've never heard so much hollering in a theater, but then we have never had so much fun packed into four minutes. And at $5 a ride, it's one of the best deals you'll find.
Pirates 4D Not meant for those averse to adventure, excitement and even a little mischief, "Pirates 4D" is full of surprises. The experience is a realistic one with the help of multisensory special effects, including 3-D visuals, interactive seats and more.
King Tut's Tomb The tombs of all Egyptian pharaohs were equipped with necessities for the afterlife, but none were so lavish or abundant as King Tut's Tomb. This attraction purports to be an exact replication of the actual burial chamber as discovered by Howard Carter in 1922, and the detail is impressive.
Las Vegas Art Museum A local affiliate of the Smithsonian Institution, the Las Vegas Art Museum features rotating exhibits from the world's top artists, past and present.
Las Vegas Natural History Museum Marine life, Nevada's wildlife and animated dinosaurs are featured, plus a children's hands-on learning room.
Las Vegas Pinball Hall of Fame Museum
Liberace Museum Here you'll find all the spectacle "Mr. Showmanship" encompassed, from the rhinestone-studded pianos to the mirrored Rolls Royce limousine to the red, white and blue hot pants outfit.
Lied Discovery Children's Museum More than 100 hands-on exhibits in the arts, humanities and sciences at one of the country's largest children's museums.
The Barrick Museum hosts exhibits of archaeology, anthropology and natural history of Mexico and the Southwest, plus a traveling exhibit gallery.
The museum depicts southern Nevada's plants, animals, fossils and history from the Ice Age to modern times.
Neon Museum — Old and forgotten signs and displays from another era.
Future attractions
Edit
Ad blocker interference detected!
Wikia is a free-to-use site that makes money from advertising. We have a modified experience for viewers using ad blockers

Wikia is not accessible if you've made further modifications. Remove the custom ad blocker rule(s) and the page will load as expected.